Recent scientific presentations related to this site
All of my scientific products are continually re-hybridized from this blended blog model, where I get to practice talking to a wall, among other things. Sometimes I explore these notions also through Twitter and I'm noted there for intermittent discussions about a presentation I recently gave [1]. It's customary for authors to provide links to their work, so this web page will serve at least to provide an excerpt with some potential heft, given the UCAR and ERAI latitudinal trends introduced here.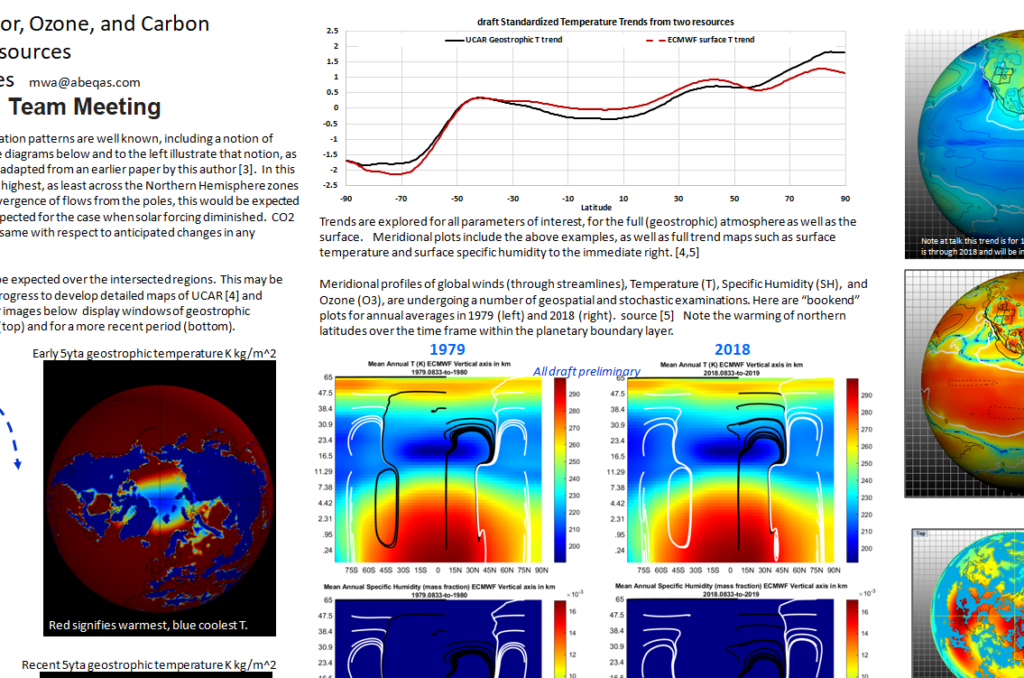 This presentation perhaps is a first, and a very preliminary first, in the non-modeled yet quantitative integration of global trends in
moisture
ozone
CO2
winds
temperatures
It's only a presentation. Researchers are lucky to get invited to such venues, so that they can share work in progress and obtain informal feedback. That's a worthy practice, especially with face time, so that participants can develop and advance towards goals that include peer reviewed publications.
[1] Wallace, M.G. 2022 Meridional Explorations of Water Vapor, Ozone, and Carbon Dioxide via Satellite Resources. Invited presentation for NASA AIRS Sounder Science Team meeting (10-12, May 2022) at NASA Jet Propulsion Laboratory (JPL), Pasadena California.

9748total visits,1visits today