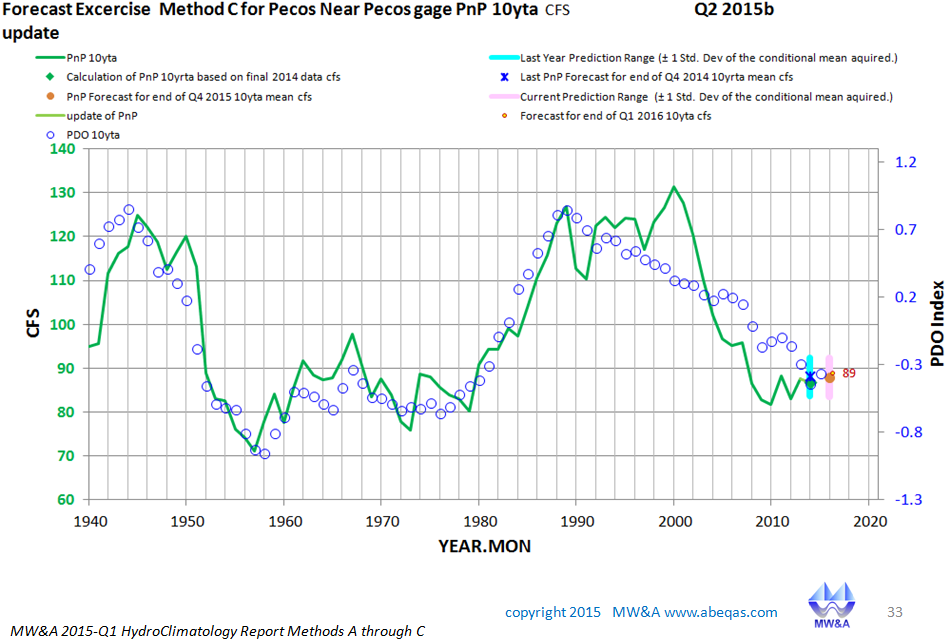 Q1 2016 forecasts now available to subscribers.
A new (rev 0) quarterly issue of our hydrologic forecast service is now available to subscribers.  This issue covers a baker's dozen of important stream gages across the western United States. As shown in the three images, this issue produces forecasts and related for the locations shown.  An example of our extensive coverage of past prediction performance, including for trial exercises*, is shown below for our Method B.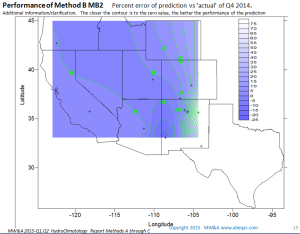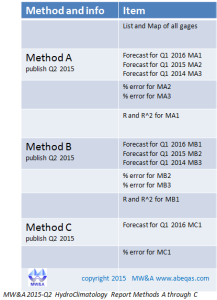 This final image is an excerpt from our forecast comparisons over time.  Each river gage current forecast in blue is compared to  excercises which represent what our systems would have forecast for previous years (red is one year ago and green is two years ago). Values again are for 10 year trailing average (10yta) cfs.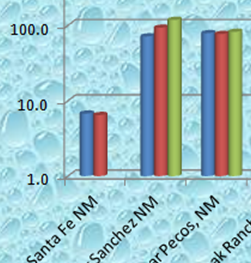 We also are releasing our estimate for the annual volume past Otowi gage (NM) by the end of Q4 2015 (acre ft).  We estimate 743,000 acre ft.   Last year our estimate was 701,000. Annual estimates for all streams in our forecast list are also included in the subscription issue.
MW&A applies our unique approach, grounded in best stochastic hydrologic practices, in producing these forecasts, and in analyzing past forecasts and forecasts by others.  MW&A makes no further representations on forecast performance or accuracy.  Buyers are cautioned and advised to treat all hydroclimatologic forecasts as exercises which although based on quantifiable data, are nonetheless subject to extensive uncertainty.

3370total visits,1visits today