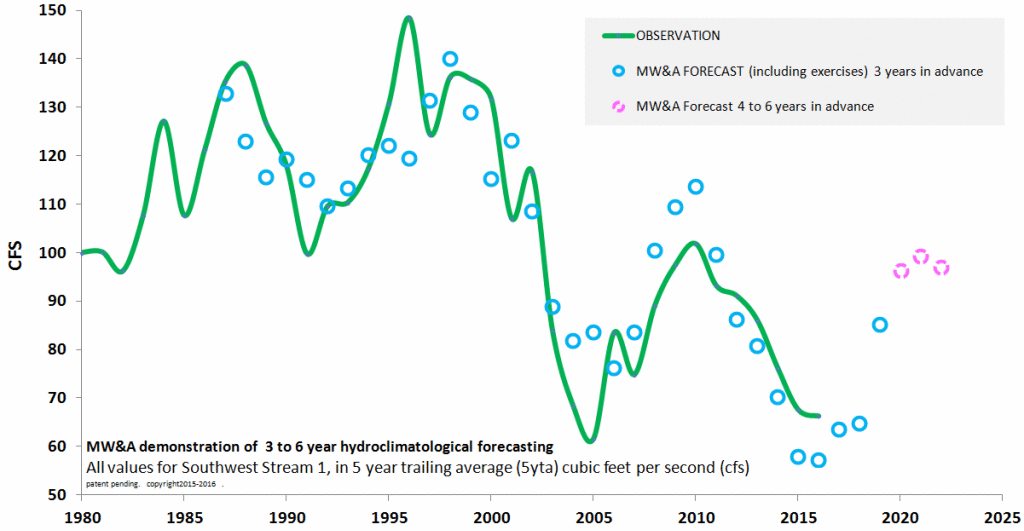 World's First Proven Multi-Year Drought Predictions
<TOUCH OR CLICK ON IMAGE  TO LAUNCH ANIMATION>
MWA produced this forecast prototype that includes a training period from 1980 through to the end of 2015.  At the time of this original post in early 2016, We knew of no other climate forecasting source which could demonstrate a comparable record of accurately and transparently predicting droughts and their opposites, 3 to 6 years in advance, either through training periods where the history is already known or for test periods where that information is not yet available but can be evaluated later.   And we still know of no other by 2022.   Moreover, this prototype became a principal topic of a peer reviewed publication [1].  The remainder of this post is unedited from February 2016.
In the featured animation we demonstrate how our exercise forecasts consistently and accurately anticipate periods of greater water supply and lower water supply.  The green line represents the observation based stream flow rates for the target stream in the US Southwest.  The blue circles represent our forecasts of the flow, three years in advance. The magenta circles are a recent addition, intended to extend our proven forecasting lead time out to 6 years for this stream.   The errors for this forecast ensemble are often updated at our forecast page or check posts.  The underlying methodologies are related to recent academic research and a provisional patent application, both of which are tied into solar cycles.
For those who require advanced and accurate forewarning of mid to long term moisture conditions in their region, please contact us for a quote.
News May 4 2016: Our recent official forecast presentation to scientists and water managers from NOAA, USDA, USGS, SNOTEL, NRCS, USBOR, USACOE, NWS, CDWS, NMISC, City of Santa Fe (a client), and others is available for purchase here.
MW&A applies our unique approach, grounded in best stochastic hydrologic practices, in producing these forecasts, projections, predictions and/or hindcasts (fpph), and in analyzing past forecasts and forecasts by others.  MW&A makes no further representations on fpph performance or accuracy.  Buyers are cautioned and advised to treat all hydroclimatologic forecasts as exercises which although based on quantifiable data, are nonetheless subject to extensive uncertainty.

3550total visits,1visits today