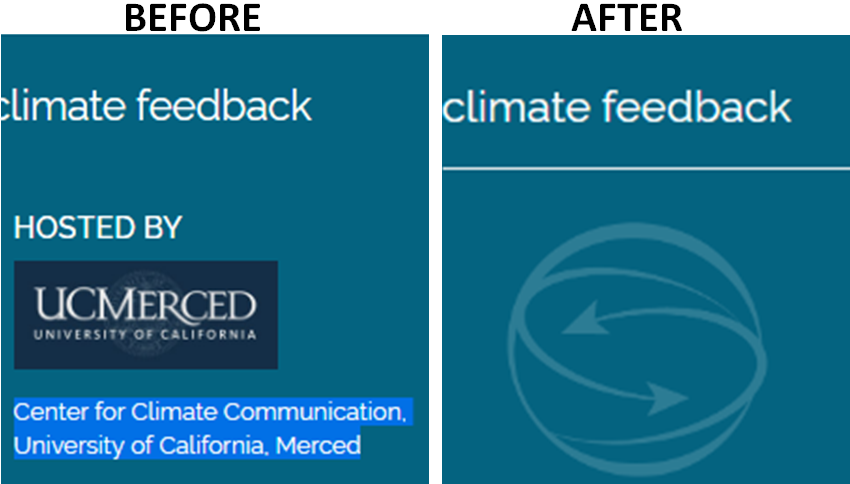 Is the University of California Retreating from Assertions of Ocean Acidification?
The University of California (Merced) once supported the Climate Feedback article
"https://climatefeedback.org/claimreview/oceans-currently-acidifying-claims-contrary-contradict-observations/"
The article is authored by three practicing ocean scientists who contest my view that all available* 20th century glass electrode ocean pH data must be included in any determination of  whether or not the oceans are acidifying.   Currently none of that data is used (about 2 million measurements over 80 years of the 20th century), the omission was never disclosed until I drew attention to it, and the deficient analyses were featured in presentations to policy makers including the US Congress.
At some point since the original posting of the article, the University removed all connection to the page.
There are other features of the article that appear to fall outside the mainstream of scientific practice.  The extracted images below indicate that the authors of the article have rendered a red verdict for my view, followed by a green seal of approval for their own views.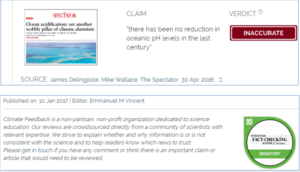 On the other hand, the National Oceanic and Atmospheric Administration (NOAA) Oceanographer and Director of the World Data Service for Oceanography and U.S. Data Manager for IODE, Hernan Garcia, has written a few months ago to me:
"Michael, thank you for your email and input! It is much appreciated. I agree with you that it is too broad to characterize all the older historical pH data as questionable without the benefit of a more in depth analysis. I think that the fit for purpose and research question help determine the use of measured data and their uncertainty. Our World Ocean Team works really hard to provide the most comprehensive ocean profile data collection possible. These historical data are scientifically valuable and cannot be recreated. Thanks!  Hernan"
Between scientists such as Hernan and I, and the scientists who have authored the linked post, there is a clear disconnect.  We all cannot be right.
*All available NOAA WOD and other scientifically produced ocean pH measurements and interpretations of the time span as a starting point.

4847total visits,4visits today