This is an informal work in progress on a continually developing hydrologic time series.  I plan to update, improve and revise this throughout the current year.  As other posts describe, the Otowi gage is a key stream flow monitor along the Upper Rio Grande Watershed (URGW) in North Central New Mexico and parts of Southern Colorado.  Please note that this data compilation does not claim to reflect hydroclimatologic or stream flow conditions outside of the URGW.  In addition, this is simply an informal post and has not been subjected to peer review or other technical feedback. 
The 1950s drought is the starting point I chose for this post.  Time series data extends further back in time and readers are encouraged to learn more by reviewing the actual USGS gages and related reports.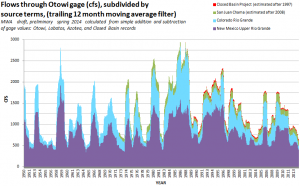 The time series as I build them now include simplifications and assumptions. These regard:
1.  Upstream reservoirs are not yet represented in this simple exercise.  The potential capacities of the reservoirs at times can be significant, equivalent to the total annual volume of flows past the Otowi gage.
2.  San Juan Chama Project (SJCP) flows represent the trans basin diversion.  Water is taken from the Upper Colorado River watershed (in the San Juan mountains) and transferred by tunnel to the Chama River watershed  which is tributary to the Rio Grande.  That flow component is accounted for in this exercise through records for the Azotea gage.   However this gage is missing some information after 2008 and so for those missing months I've populated with an average flow value.  Typically, SJCP flows run about 10% of total Otowi flows.
3.  The Closed Basin Project (CBP) is the product of pumping from a shallow aquifer underlying the Closed Basin into the Rio Grande within the Colorado side of the watershed.  Some discharge data here is also missing from the record and so later values here are based on extrapolations of published estimates.
4.  Colorado flows are defined here as the amount flowing past Lobatos gage, near the state line, after the CBP flows are accounted for.
5.  New Mexico Upper Rio Grande (NMURG) flows represent the flow total after the other sources have been accounted for.
6.  Pumping and other water diversions for irrigation from within San Luis Basin, Conejos flows (from New Mexico, into Colorado, then back to New Mexico via Rio Grande), and various other impacts (including carriage losses and evapotranspiration, gaining streams and losing streams) are not directly evaluated, but are assumed to be intrinsically captured by records at the selected gages.