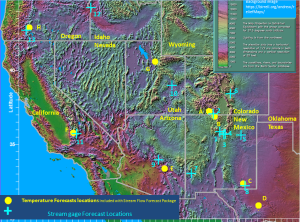 FORECAST PERFORMANCE FOR THIS PRODUCT:
TRANSPARENCY:  HIGH.  Skill metrics of products are reproducible by third parties
ACCURACY: HIGH,
Price (US) Contact Us.
Join an elite group of professionals who now have access to the most accurate hydro climate forecasts on Earth.
These are custom products that start from a base price shown.  The base price of $10K covers the following:
Consultations with client to identify 1 to 3 hydrologic variables of interest in the client's local region of interest.
For each Variable:
Production of Stochastic Landscapes.
Production of historical hindcasts based on MW&A proprietary indices and related correlations.
Production of performance metrics for those hindcasts.
Production of forecasts on a quarterly basis for one year, based upon the best performing indices for a range of moving averages and a range of lead time spans.    Moving averages can range from one month to 10 years.  Lead time spans can range from one season to one decade.  Featured analyses will be based upon client consultation.
Each project requires a signed contract with MW&A.
Maintenance and updates for future years are described in our quote.
Please note that clicking on the "Buy Now" button will simply link you to our "Contact Us" page.  Use that to contact us and obtain a quote.