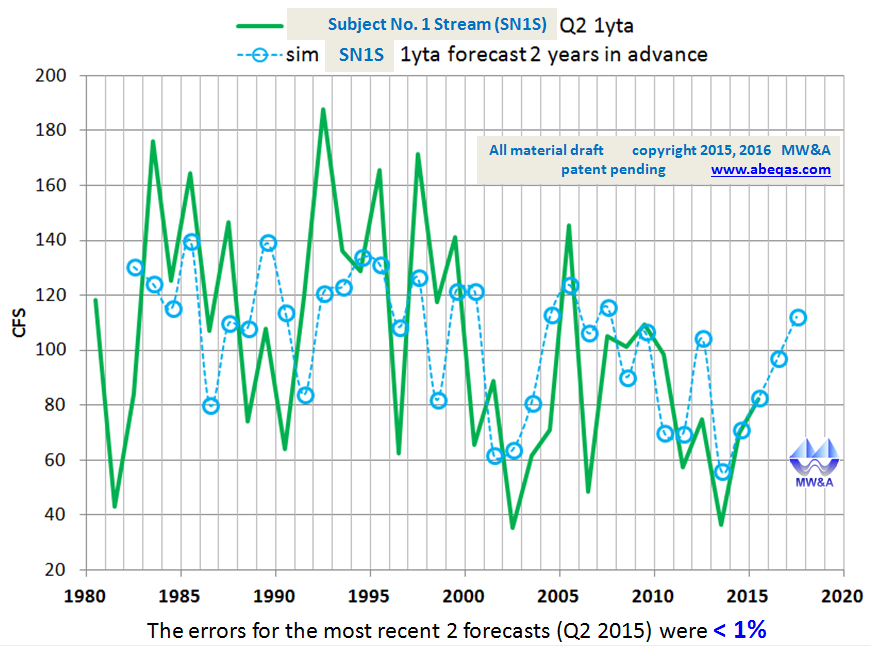 Climate Forecasts & Predictions, Uncategorized
MW&A Files Provisional Patent Application for Latest Hydroclimatological Forecasting Breakthroughs
Through our proprietary methodologies we continue to achieve significant breakthroughs in the skillful prediction of hydroclimatologic parameters such as regional temperature and moisture.  Now in addition to those, we have executed a provisional patent filing for a system far more accurate than any known multi year forecasting approach in this industry to date.
In our new patent pending forecasting system, we can in many cases forecast such new features as:
A 1 year moving average of stream flow, anticipated 2 years in advance.
A 5 year moving average of stream flow, anticipated 3 to 6 years in advance.
The featured images document our forecasting skill for these cases.
Please visit our STORE for information on how this system can be applied to your specific needs.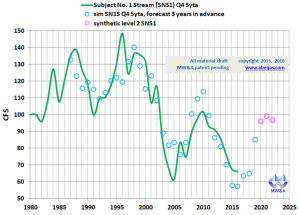 Our system allows for advance predictions of important shifts from wet to dry conditions, and vice versa.  For example, water resource managers and others can now use our products to anticipate drought with more skill than ever before.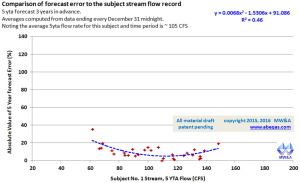 What's more, as our usual practice, we transparently disclose the skill of our forecasting exercises.  In these cases the skill of the forecast set is unusually high in comparison to conventional hydrologic forecasting methods.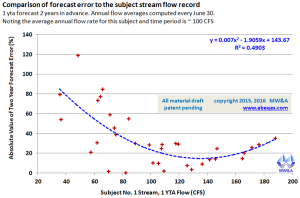 MW&A applies our unique approach, grounded in best stochastic hydrologic practices, in producing these forecasts, and in analyzing past forecasts and forecasts by others.  MW&A makes no further representations on forecast performance or accuracy.  Buyers are cautioned and advised to treat all hydroclimatologic forecasts as exercises which although based on quantifiable data, are nonetheless subject to extensive uncertainty.

1181total visits,2visits today