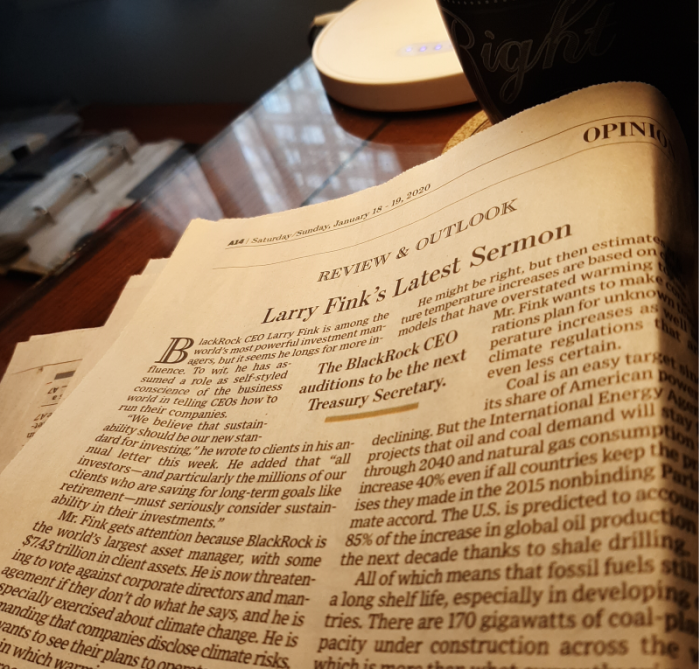 Abeqas essay anticipates WSJ Blackrock climate change editorial
Obviously many are interested on BlackRock's recent announcement.  I only note that I introduced an essay on the BlackRock climate change fiduciary concern a few days ago.  This has now been followed by a Wall Street Journal editorial that covers some similar fiduciary-climate change topics.  [1] Their editorial appeared in the print version for Saturday and Sunday, January 18-19, 2020.
So I guess don't solely rely on my prescient essay.  Consider the opinions of those who seem a little more rooted in financial questions.  😀
On the other hand, I think that both BlackRock and the WSJ are wrong to continue to disregard the overwhelming evidence featured at this site, that SOLAR forcing dominates decadal and centennial scaled climate.  WSJ reveals this deficiency in the manner that they characterize the predictability of climate.   As usual I simply refer to this paper [2] which includes a sampling of the most accurate predictions ever produced about the climate.  The peer-reviewed publication of those forecasts and their rationales have repudiated greenhouse gas causality and were instead based on cross regression moving average calculations.  These in turn leveraged off of newly identified, statistically-significant, lagged global and regional hydrologic correlations to solar cycles.  In other words, the greenhouse gas theory has been falsified many times over, if only through [2].
Many might prefer that water related professionals, as well as famous newspapers, refrain from posing too many questions about climate change scientific assertions.  For one final example of many, consider the status of these independent measurements of natural water chemistry.  But don't take my word for any of this.  Simply reproduce the work of [2] and apply what Dr. Karl Popper wrote about falsification of a theory.
References
[1] Wall Street Journal OPINION Review & Outlook feature "Larry Fink's Latest Sermon", appearing in the print version for Saturday and Sunday, January 18-19, 2020.  https://www.wsj.com/articles/larry-finks-latest-sermon-11579305418
[2] https://www.tandfonline.com/doi/abs/10.1080/02626667.2019.1567925?scroll=top&needAccess=true&journalCode=thsj20

1641total visits,4visits today